Over the river and through the woods…
The Joint County ATV Council (JCAC) is comprised of 18 individual ATV/UTV clubs assoicated with 10 Wisconsin counties.  Clark, Wood, Jackson, Monroe, Juneau, LaCrosse, Vernon, Richland, Sauk, and Crawford counties have been carefully mapped to show ATV/UTV road routes and off-road trails throughout the region.
There are 3 map versions for each county depending on your needs. All versions include the JCAC Business Supporter contact information for use on the routes or trails.
​
Online interactive GPS enabled map.  (Requires internet connection or cell service).

A PDF map version for print-yourself maps.

Upload the PDF to your phone or tablet for an electronic version of the map.

Note: when viewing on a phone or tablet, use desktop site for best viewing.

These JCAC maps are provided as a service to the ATV/UTV community and are 'free to the public'.  Zero cost downloads – nothing to buy… it's hard to beat FREE.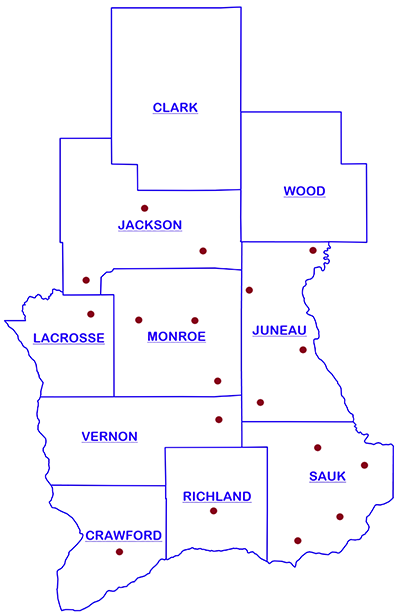 Support your local ATV Club!
Connect with an ATV club in your area.
Click on the map for club links.