Note to Smart Phone Or Tablet Users (Iphone and Android) – On your phone or tablet, navigate to this page and download the Print Map PDF file below. This PDF file will provide an 'electronic' map version of the routes on your phone that displays nicely on small screens. This allows viewing the map on your phone without need for cell or WiFi service when riding. ​ GPS tracking is not available when using the print map version on your mobile device.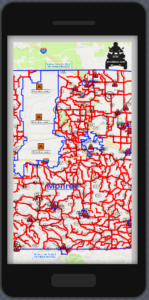 Your GPS location while riding the routes and trails is available using the link above. Click the compass icon below the map resize + and – icons once to view your current location. Click the compass icon again to follow your current location across the map as you ride. Minimize the layer menu at left on map to use the map full screen. GPS tracking requires cell phone or WiFi service.
​Use Your Cell Phone For GPS Tracking On This Map!
Please Patronize our Business Supporters
These maps, both the online interactive and print version maps include Business Supporter information for access to services while traveling the ATV routes.